If you want to see larger or smaller text,
press Ctrl & +/- keys,
or Ctrl & mousewheel.


MOT tests in Winchester, Hampshire ... with free courtesy car.


MOT tests can be carried out on your car up to
one
month
before
the expiry date of an existing UK MOT certificate provided that a current MOT certificate is presented to the examiner at the time of the test.

On passing the MOT test, the vehicle will receive a
new
certificate valid from the date of expiry of your existing MOT certificate.

MOT test fees are not subject to VAT.




VT20 MOT Test Certificate
:


This certificate confirms that at the time of the test, without dismantling it, the vehicle met the minimum acceptable environmental and road safety standards required by law. It does
not mean that the vehicle is roadworthy for the length of time the certificate is valid. The MOT certificate is also no guarantee of the general mechanical condition of your vehicle.

The test does not cover the condition of the engine, clutch or gearbox.


MOT tests:

The MOT looks at some important items on your car to see that they meet key legal requirements at the time of test.

Driving Controls

Steering Wheel and Column
Footbrake and Servo
Handbrake
Light Switches and Horn
Windscreen Wipers and Washers
Exterior

Suspension
Shock Absorber Effectiveness
Tyres and Wheels
Body Condition
Lights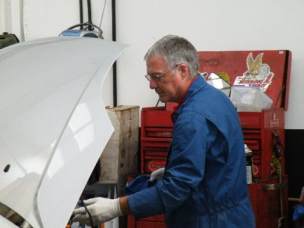 Sidelamps
Direction Indicators
Headlamps
Headlamp Aim
Reflectors
Stop Lamps
Rear Lamps
Fog Lamps
Under Bonnet

Braking Components
Suspension
Steering
Under Vehicle

Steering
Tyres and Wheels
Foot and Handbrake System
Suspension and Shock Absorbers
Wheel Bearings and Driveshafts
Exhaust
Chassis
Brake Performance

Footbrake Efficiency
Front Brake Balance
Handbrake Efficiency
Exhaust Emission

Carbon Monoxide (CO) Emission
Hydrocarbon (HC) Emission
Lambda
Excessive Visible Smoke


The following section is designed to give you an indication as to what items are tested during an MOT and how this is done. This list is only a brief summary of the actual procedures used and not all items apply to all cars. It should also be noted that dis-assembly of any part of the vehicle is not allowed during an MOT test, which means that hidden items such as faulty wheel cylinders cannot be seen or failed.



Body & Vehicle Structure - is free from excessive corrosion or damage in specific areas and there are no sharp edges likely to cause injury.
Fuel System - has no leaks and the fuel cap fastens and seals securely. The fuel cap will need to be opened so be sure the key is available.
Exhaust Emissions - the vehicle meets the requirements for exhaust emissions, dependant on the age and fuel type of the vehicle.
Exhaust system - is secure, complete, without serious leaks and silences effectively.
Seat Belts - all belts installed are checked for type, condition, operation and security. All compulsory seat belts must be in place.
Seats - the front seats are secure. Front and rear backseats can be secured in the upright position.
Doors - latch securely in closed position. Front doors should open from inside and outside the vehicle. Rear doors may need to be opened to gain access to testable items.
Mirrors - the minimum numbers are on the vehicle, their condition and security.
Load security - boot or tailgate can be secured in the closed position.
Brakes - their condition, operation and performance (efficiency test). Note the removal of the road wheels is not part of the test.
Tyres & Wheels - their condition, security, size, type and tread depth. Spare tyres are not inspected.
Registration Plates - their condition, security, characters correctly formed and spaced.
Lights - their condition, operation and security. Headlamps for aim.
Bonnet - securely 'latches' in the closed position.
Wipers & Washers - operate to give the driver a clear view ahead.
Windscreen - its condition and the driverís view of the road.
Horn - operates correctly and is of a suitable type.
Steering & Suspension - are of a satisfactory condition and operation.
Vehicle Identification Number (VIN) - is on vehicles first used on or after 1 August 1980. Not more than one different VIN is displayed except on multi-stage build vehicles.